Angels All Around puts unpaid carers centre stage, and celebrates them for the vital work they do for friends and family by creating special portraits inside icon boxes (crafted from repurposed recycled materials). Slavka has created seven of the icon portraits and carers themselves made another nine in artist led workshops. Both Slavka and project assistant Becky Simmons are carers themselves, so this project is very close to their hearts.

Angels All Around opened at HISBE on 25th November 2021, to mark National Carers Rights Day. We also invite you to visit the online gallery to see all of the icons in their full splendour.
Thanks to
Adur & Worthing Trust, Carers Support West Sussex, Colonnade House, HISBE Worthing,
Exhibition
25th November 2021 - 9th January 2022
HISBE Food
38-42 Portland Road, Worthing, BN11 1QN.
Slavka is delighted to have been selected to exhibit as part of the Worthing Open Exhibition, alongside artists and makers from across East and West Sussex. The artwork entitled Solitude is a mixed media collage from her Iconography series.
Curator Emma Walder: 'I was pleased to see that we had well over 500 entries this year, and the work delivered has been as varied and diverse as it always has. The communities' creative spirit is still as strong as ever!'
Exhibition
2nd October 2021 - 3 February 2022
Worthing Museum and Art Gallery
Chapel Road, Worthing, BN11 1HP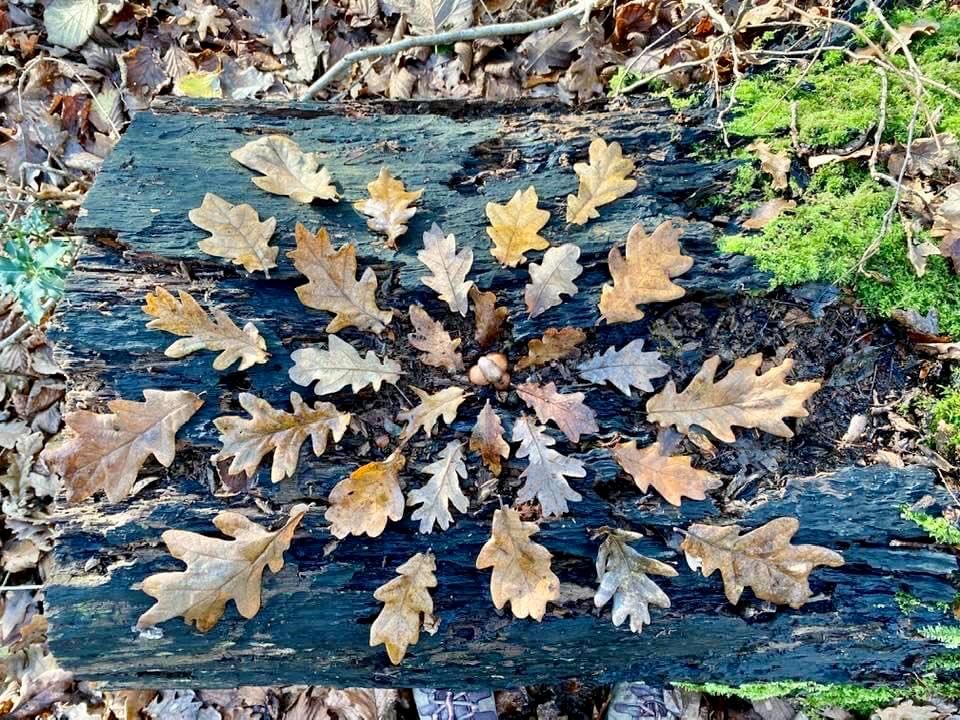 The Nourishing Nature of the South Downs
Two of Slavka's photos feature as part of this exhibition on Worthing Pier. presented by Creative Waves in partnership with the South Downs National Park Authority, exploring the relationship between arts, landscape and health & well-being. The Oak Mandala land art (pictured left) is one demonstration of how nature helped Slavka through the pandemic.
Kate Drake, Health and Wellbeing Officer for the National Park: 'The artwork is amazing and I was overwhelmed by the sheer variety of work – showing that everyone has a different interpretation of the South Downs'
Creative Waves are also including all of the artwork in commemorative books for Worthing Museum and West Sussex County Council Library for future generations
Exhibition
23rd March 2021 -
Worthing Pier
Marine Parade, Worthing, BN11 3PX